Glass trinket boxes and jars are my weakness, I literally can't help myself. Can you blame me for this one though? I'm convinced it whispered my name . . . .
Pure, star-shaped, sparkly joy for only £1.50, but can you really put a price on prettiness?! I think it has just swiped the crown of my Favourite Find.
More blue and white love and I can thank Cancer Research for this bowl at £2, I'm going to use it on the wall of the bedroom or maybe as a jewellery dish.
When it comes to wine glasses I hold my hands up and admit that I'm an 88p for 4 ASDA purchaser and don't own any pretty ones other than this pair I picked up last week for 50p. Blue glass is a winner!
A Salisbury cake plate for £1.50 in Mind, I've earmarked this one for possible drillage - it could be a good bottom layer for a DIY cake stand if I'm brave enough!
Little vintage shot glasses, £1 for the 4 in Cancer Research - though I was inadvertently underhand in acquiring these! They had been reserved for another lady while she went to draw out some cash - one of the volunteers hadn't realised so had put them back on the shelf and I'd come along, seen the sparkle and scooped them up, handed over my pound and was just putting them into my bag when Reserved Lady returned. I'd like to say it was a case of handbags at dawn and a minor scrap ensued but she was very nice and said I should keep them, so thank you Reserved Lady - I'm sure there'll be some bargain karma headed your way!
Buying a sundae glass while dieting possibly isn't the wisest thing as now I want to cram it with a couple of scoops of mint choc chip and a couple of something toffeefied with a caramel-y sauce, yum! 50p from the Lighthouse charity shop though so I couldn't leave it on the shelf.
A little pewter frame I thought would be just the thing for the right black and white family photo, 60p from the Salvation Army.
A sweet Royal Vale jug with thistle print from Mind for £1, a good one for milk on the breakfast table.
My first and only goblet for £1 from the British Heart Foundation, I'm fairly in love with the tarnished surface and I'm already conjuring ways I can use it while keeping an eye out for more.
Hope you've all had a lovely weekend!
Jem xXx
Linking to: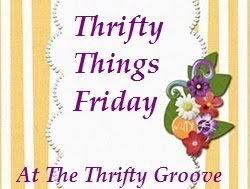 Thrift Share Monday @ Apron Thrift Girl
,
Nifty Thrifty Tuesday @ Coastal Charm