This past week I've been obsessing over white flowers, though as we don't have a garden here I don't have fresh flowers on tap so have to buy them whenever I feel the need which can get a little pricey. I didn't seem to have the right shape of vase for these daisies so I used a spare jar I picked up from Age UK for 50p and I like the effect.
Little espresso cup and saucer for £1, admittedly I don't have a coffee machine . . . and I don't drink espresso very often either - but I couldn't let that get in the way of a cute purchase!
Not my usual sort of buy but the moment I clapped eyes on this pewter tankard I knew I needed to fill it with flowers, it's engraved M.B and was only £1. I have a habit of dropping and cracking vases so having something that bounces is a winner!
Yet another hanging heart to add to the growing collection around the house, this one wasn't a thrifty purchase at £1.50 but it was the perfect little heart for one of the bathroom cupboards and I wish I'd bought a couple more when I saw them as they'd make lovely gifts.
My favourite find though was this little bundle of Queen Anne china, one large plate, six tea plates, a sugar bowl and a milk jug all for £4 from the British Heart Foundation. It's such a contemporary looking pattern so I've no idea as to when it was produced but I'm going to have to find space somewhere to display the jug as I love the colours and it feels really summery.
Take care,
Jem xXx
Linking to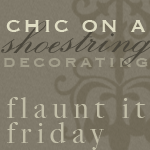 Feathered Nest Friday
,
Show and Tell Friday